Gibson hummingbird guitar
Gibson Hummingbird Guitar

If there was a musical instrument that captures the soul and spirit of its player, it would be the guitar. When you listen to a guitar, you get a feel for the performance. The underlying emotions that influence the player cascade from his heart to his fingers to the strings and through the sound chambers. These emotions are best reproduced organically through an acoustic guitar. Your tone is captured then filtered through its strings and enhanced by the quality of its workmanship. One of the best acoustics in the market is the Gibson Hummingbird Guitar.
Gibson Brands Incorporated has long been associated with building quality musical instruments. Originally known as The Gibson Guitar Corporation, it was founded in 1902 by Orville Gibson primarily to manufacture mandolin- family instruments.
By 1930, the company had diversified to flat-top acoustic guitars and the first prototypes of its famous hollow- body electric guitars. Over the years, Gibson has been the preferred choice of many of the world's greatest guitar players such as Les Paul, Charlie Christian, Al Di Meola, Wes Montgomery and Jimmy Page.
Gibson Brands consistently ranks as among the three best manufacturers of the acoustic guitar in various lists. The Gibson Hummingbird Guitar has widely recognized as one the best acoustic guitars in their product line and in the market.
What makes the Gibson Hummingbird Guitar sing?
The Gibson Hummingbird is a departure from the traditional flat-top acoustic guitars Gibson makes. It was designed as a square-shouldered dreadnought similar to the dreadnoughts produced by C.F. Martin and Company, another premiere manufacturer of fine quality acoustics. A dreadnought is a larger bodied guitar which produces a tone that would best be described as "loudly resonant".
The Gibson Hummingbird is manufactured with a solid sitka spruce top with solid mahogany back and sides. It is engineered with 3-ply bridge plates, single X-bracing and choice of rosewood or ceramic saddles.
These features help produce the unmistakable, distinct, "loudly-resonant" tone of the Hummingbird. Guitar players describe the tone as even; with highs and mids cutting through perfectly but its lows best define the sound of the Hummingbird. Although it comes with a pick-up system, the Hummingbird is loud enough to play through a concert hall unplugged.
Some acoustic players may find the action of the Hummingbird a bit high but then there are theories that support higher string action corresponds to better overall tone and cleaner sound. The fretboard is made of rosewood which gives it a vintage look and smooth feel. Many players find the Hummingbird to be durable enough to take on the road for gigs or concert tours.
Here are a few of the Gibson Hummingbird Guitar models that have been manufactured throughout the last few years:
1. Modern Classic Model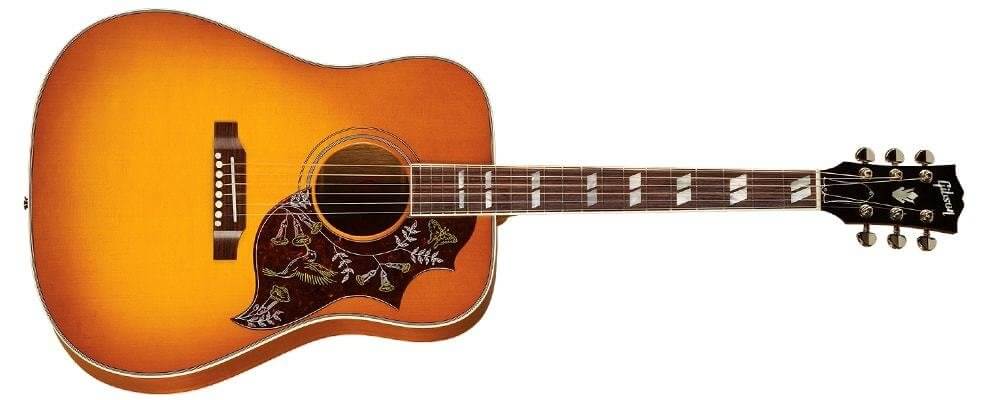 This is designed to be a hybrid electric- acoustic guitar. It is made of AAA solid grade Sitka spruce top, mahogany back and sides and a rosewood fretboard with double parallelogram inlays. It uses an L.R. Braggs Active Pick-Up system. It is available in many cherryburst versions such as strong orange to almost yellow, heritage cherryburst and natural finishes.
2. The Artist Model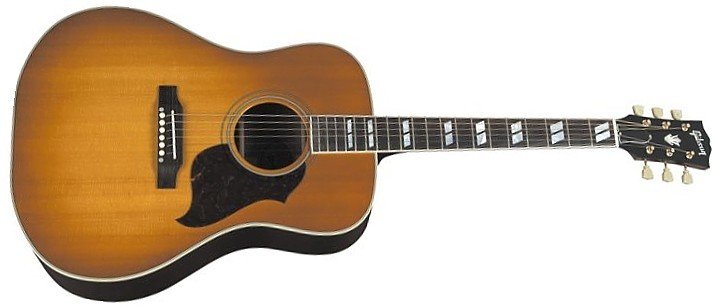 Gibson re-designed the dreadnought shape of the Hummingbird into a more round- shouldered look best typified by its J-45 model. It also features a modern sculpted pick guard instead of the classic Hummingbird pick guard.
3. The Hummingbird Pro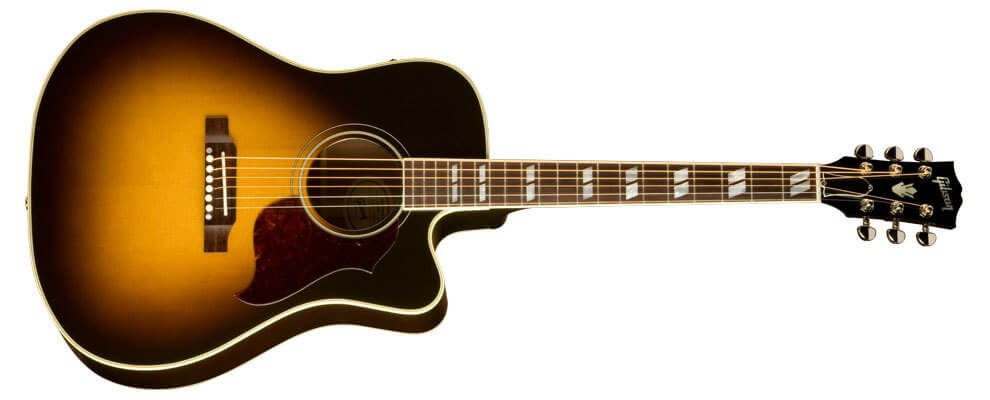 This model was distributed by Musician's Friend and Guitar Center but can also be found in guitar dealers from Europe. You can find a single cutaway version of the Hummingbird Pro which has a Fishman Prefix Plus-T preamp system instead of the standard L.R. Braggs Active Pick-Up system.
4. Custom Koa Model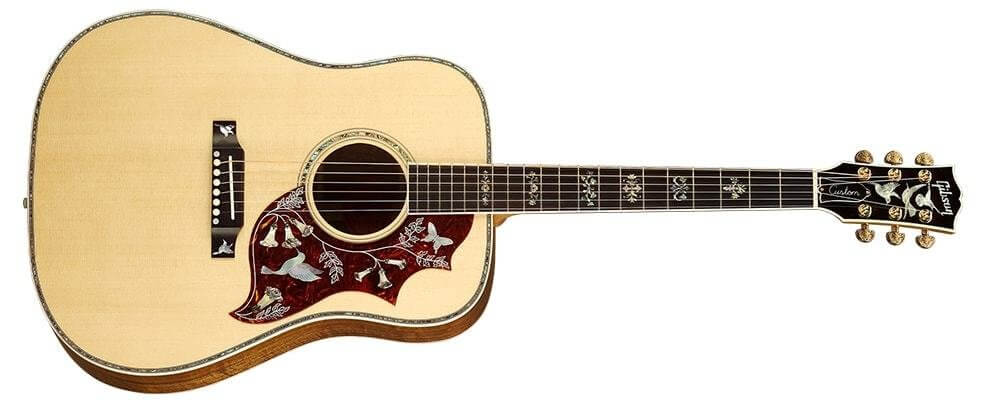 Koa is wood that is found in the Hawaiian Islands and is known for its warm tones. It has grown expensive because of Koa deforestation over the years. The Custom Koa Model features Koa back and sides, gold Grover mother of pearl keystone tuners and a floral tortoise- shell pick guard. It has and ebony fretboard and comes in the natural finish.
5. Epiphone Versions

Epiphone was a former competitor of Gibson in manufacturing archtop guitars until it was acquired by the company in 1957. It is primarily utilized by Gibson to make more affordable versions of its guitars. An affordable version of the Hummingbird is the Epiphone Dove. It is still made of solid Sitka spruce top with rosewood fingerboard but the body and neck are made of lower priced maple wood.
Explore Gibson Hummingbird Guitar
Among the musicians who play the Gibson Hummingbird Guitar are Keith Richards and Mick Jagger of The Rolling Stones, Chris Cornell of Soundgarden, the late Layne Staley of Alice in Chains, John McLaughlin, Lindi Ortega and Sheryl Crow.
Becoming a good guitar player takes more than just hours of practice. You should practice with an instrument that has the sound, tone, and overall playability to inspire you to transition from good to great.
A Gibson Hummingbird Guitar carries a hefty price at $3,099. But if you are serious about guitar playing it is an investment that pays out dividends over its lifetime.
here is a list of shops that you can get guitar strings from and subscribe to our newsletter for more music tips and lessons.
CONTACTS
Alternate Tone Pte Ltd- Music School
29b Seah St - Singapore - 188385
Tel: +65 8115 9378
Email: info@alternatetone.com
Open: Mo-Fr 12:30-21:30
Sa 10:00-18:00