60 Reasons Why You Should Play Guitar
60 Reasons Why You Should Play Guitar
Let's start off our list with 5 reasons why you shouldn't play any other instrument than the guitar:
Unless you have a 7" tongue, no one wants to date the bass player.
No one throws underwear at the drummer.
Good luck lugging around the piano on your next vacation.
Because listening to a sax is like having a root canal.
Synthesizers went out with the mullet.
Okay before you start a lynch mob, we're just messing around with our fellow musicians! So put down your pitch forks and blow out your torches. We love and appreciate all forms of music.
So why should you play guitar?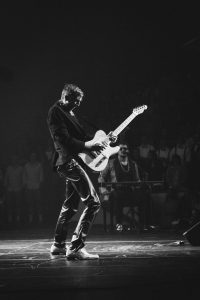 If you think you're the bomb for finishing Dragonforce's "Through the Fire and Flames" in Guitar Hero, you'll be a guitar god if you can play it live on a real guitar!
Here are a 55 more reasons why you should play a guitar:
Flex your creativity muscles.
Open up sonic possibilities; can you make a piano sound like an elephant?
Write music on your bed.
Play music for your loved one.
Helps you work on your singing.
Chill on the beach.
Learn and appreciate different styles of music.
Best way to start the day.
Best way to end the evening.
Live "The Dream" to be in a band.
Chances are the band will be named after you!
Everyone looks forward to your solo.
The next 10 reasons are backed by scientific research!
Those guitar faces? That's because guitar releases dopamine; the same hormone released during sex.
Reduces stress.
Reduces chronic pain.
Makes you smarter!
Strengthens your heart!
Become more attractive to the opposite sex.
People who learned music at an early age became rich later in life!
Sharpens memory.
Connect with your emotions.
Boost your confidence.
Increase the "Cool Factor".
Make new friends.
Be less agitated.
Ever wonder why guitar players like Joe Perry, Nuno Bettencourt and Slash are slim? Instead of eating junk food, play guitar and get healthy!
Develop coordination and agility.
Strengthen your hands and fingers.
It's an affordable instrument.
You can take it wherever you want to go.
Challenge your ability to play different types of guitar; acoustic, electric, 12-string, ukulele, Dobro and the banjo.
Become a music teacher.
Become more well- rounded.
Impress the heck out of everyone!
Create sonic works of art.
Make life more exciting.
Develop positive values like dedication, commitment and patience.
Feel more accomplished.
Improve your social life.
Live the rock and roll lifestyle!
Record your own compositions.
Be able to play the music of your idols.
Become more productive.
Give yourself a chance of having a financially rewarding career.
Get to travel more often.
Heal your troubles through the power of music.
Inspire other people.
Have more memorable family reunions.
Collecting guitars is a fantastic hobby.
Express yourself through music.
Become a story teller.
Have a good reason to grow your hair.
Experience, sing and play the blues.
Break the Guinness Record for "Fastest Guitarist in the World".
Help others get through problems or tough times.
Let's end the list with a bonus: the most important reason to play guitar is… to be happy!
Learning how to play guitar comes with its own set of challenges. But once you start getting your groove on, it becomes fun and highly entertaining.
Guitar playing is one of those activities where every single day you are 100% sure of accomplishing something. Whether it's the first verse of your favorite song, the first section of a difficult solo, a new technique or another lick in your arsenal, you will always move forward and get better.
When you play guitar, it will make you believe that nothing is impossible! The more you practice, the sooner you will develop ways of breaking down your favorite songs and learning them on your own.
If you felt great learning "Tom Dooley", wait until you figure out Estas Tonne's "The Song of the Golden Dragon".
You'll be in cloud 9!
CONTACTS
Alternate Tone Pte Ltd- Music School
29b Seah St - Singapore - 188385
Tel: +65 8115 9378
Email: info@alternatetone.com
Open: Mo-Fr 12:30-21:30
Sa 10:00-18:00