ADVANCE GUITAR LESSONS
Learn From The Best

Get 1 FREE LESSON if you Sign Up now!
#WeDontHave1000YearsToLive
Learn how to play like a Pro this 2018!
Not only will our lessons help you play like a pro.
We will help you understand the why & how behind the techniques and theories of your favourite song
Alternate Tone Guitar School
We don't believe in a one-size-fit all teaching plan. Every music lesson is customized to individual student's needs and aspirations. No matter if you are a kid or adult, beginner or advanced learner, our instructors can tailor the lesson plans for you. level.
We have well-thought out and comprehensive learning syllabus that will guide you in your learning. Students can ensure smooth progression from Beginner to Intermediate to Advanced level.
Our aim is to challenge the traditional idea of a music school and our goal is to be the source of inspiration for our students.
And discover what creative looks like for you.
Solo Improvisation
Learn How to Create Your Own Guitar Solos
And Discover Your Own Playing Style
Chord Melody & Chord Substitution 
Understand the theory behind Chord melody and Chord Substitution
Music Theory
Set your foundation right, understand and interpret written music and translate that into your playing.
Blues, Rock, Funk, R&B, Indie, Country, Gospel
Explore the different genre & styles of guitar playing and discover your tone
Guitar Effects & Loops
Learn How To Tweak Effects Like a Pro, and How To Set Up & Create Guitar Loops
FingerStyle 
Learn How To Play FingerStyle Effortlessly. Master the techniques and theory behind 
Scales & Modes
Learn how to Master the fretboard, and demystify the theory behind modes and how to apply it into your playing
Shredding & Tapping
Learn the concept and techniques of shredding and finger tapping.
Jazz Guitar
Learn how to play Jazz and understand the Concept & Theory Behind
SightReading
Sight Reading Made Easy. Our lessons will help you learn sight-reading fast and painless.
Of course, sight-reading is optional.  
Play By Listening
End of the day, our main goal is to help you learn how to play any songs naturally, just by listening. You'll be able to figure out the chords, musical notes of melody lines, and improvise your own style of playing over your favorite songs without any musical scores.
You'll be a guitarist!
Alternate Tone specializes in providing guitar and pop piano lessons. Our journey started in Singapore since 2009, and we exist to make music learning possible for all.
We are a music learning community that inspire everyday people to become musicians. We're proud to be a tribe built by musicians, for musicians; sharing what we know, passing along ideas and techniques, and encouraging each other to pursue the extraordinary and the unknown.
We believe the way we teach music should be as creative as the way we play music, crushing the mold of classroom-style learning and being the supplement of creative energy and source of inspiration for our students.
Discover What Creativity Looks Like For You!
We're located at: 35B Seah St, Singapore, 188391
They are our awesome teachers:

Pricing
This special offer comes with 1 FREE lesson (offer available only today)
220
/

4 lessons / 45min each lesson*
you will learn techniques such as: fingerstyle, solo improvisation, chord substitution, chord melody, scales and modes, ear training, solo phrasing, speed training, fretboard studies, exploring different genres, and more

our lessons are on a 1-to-1 private coaching basis, each lesson is 45 minutes long, which is more than enough to have fun and to see results

Satisfaction guaranteed!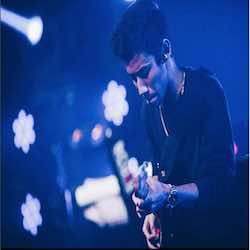 Sano 
Advance Guitar Instructor 
Lasalle College Of Arts (Bachelor Of Music In Performance Guitar)
Sano Shimano is the Guitarist lead guitarist for Gentle Bones
and Music Director based in Singapore who specializes in
contemporary music composition and arrangement who is
actively working for artists under Universal Music, Nettwerk Music Group.
He has managed, orchestrated for and performed at various major
music festivals along with being awarded The National Arts Council's
Presentation and Participation Grant (2015).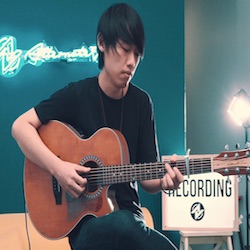 Mike Lau 
Advance Guitar Instructor 
Lasalle College Of Arts (Bachelor Of Music In Performance Guitar)
Session Guitarist For M1LDL1FE, LinYing, Joie Tan, Mars,  JAWN, Ffion Williams, and played at festivals in China, Malaysia, Australia and Singapore. Mike is a sought after session musician and guitar teacher. He specialise in Pop, R&B, Soul and Rock Guitar playing.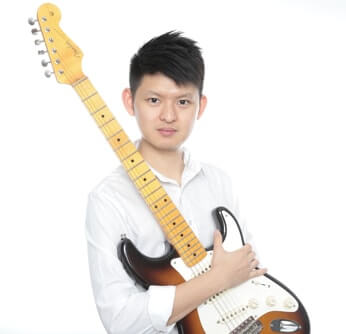 Ryan Wong 
Advance Guitar Instructor 
Nanyang Academy of Fine Arts (Bachelor Of Music)
Ryan, Music major from Nanyang Academy of Fine Arts is an experienced acoustic and electrical guitar instructor.
He has taught at various schools such as Raffles Girls Primary School, Bukit Panjang Primary School, Hwa Chong Institution, Chung Cheng High School and Nan Hua High School.
As a Music Arranger, Mixing & Mastering Engineer, he was worked with Radio station UFM 100.3 on multiple projects and with many recording artists, including Dr. Liang Wen Fu. On top of that, he has also won a band and song-writing competition. Despite all of these accomplishments, his proudest endeavour is leading an educational program to groom young talents.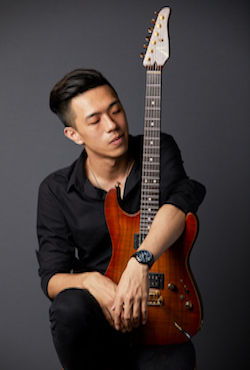 Travis Tan
Advance Guitar Instructor 
Lasalle College Of Arts (Diploma Of Music In Performance Guitar)
Travis Specialise in Rock and Metal guitar playing style, and has a ton of experience performing under his belt.
Over 400+ students learn with us, here is what some of them are saying:
"I love it here, I started learning a few months ago and the teachers are awesome, they know how to explain so everybody can understand"
"Join Alternate Tone to learn more about guitar soloing and fingerstyle which I was struggling with. I've learnt so much since! I'm able to create my own guitar solos and figure out the chords and notes required to cover songs in fingerstyle without much of a issue now! "
"My sister and I always loved guitars, saw an ad on Facebook and decided to give it a try – best decision made this year, I can't stop playing my guitar at home haha"
Learn From The Best Musicians 
In The Local Music Scene

One Year From Now You Will Wish You Had Started Today
Improve Your Guitar Playing This 2018!
#ImprovementGuaranteed